Science and research
Scientific grant projects
Slovak grant agencies
Principal Investigator: doc. RNDr. Zora Lasabova, PhD
Genomic profile and transcriptional signature of colorectal cancer (APVV-16-0066) More about the project:
Analysis of methylated DNA sequences in plasma as a universal marker for monitoring the relapse of colorectal cancer (VEGA 1/0380/18) More about the project:
Colorectal cancer, a heterogeneous malignant disease of the colon and rectum, is one of the most common cancers in economically developed countries, attributed to eating habits and lifestyles. According to the GLOBOCAN 2020 database, colorectal tumors are the 3rd most common cancer in the world and the most common ones in Slovakia [1]. Approximately 20-30% of colorectal carcinomas arise through the serate hyperplastic pathway [2], which is characterized by aberrant methylation, the so-called hypermethylation CIMP phenotype (CpG Island Methylated Phenotype). A number of methylated cancer genes, such as MLH1 [3], CDKN2A / p16 [4] and others, have been identified in colorectal cancer patients. One of the possible hypermethylated genes in colorectal cancer is GRIA4 gene [5,6,7].
Our research project focuses on the detection of hypermethylation of the GRIA4 gene from tissue and plasma samples (so-called liquid biopsy) of patients with colorectal cancer. Liquid biopsy is an alternative to standard surgical biopsy and provides us with information about the tumor through a simple blood draw. The blood of cancer patients contains tumor-derived material that circulates in the blood, circulating tumor cells (CTC), and circulating tumor DNA (ctDNA). Compared to a standard surgical biopsy, a liquid biopsy is a non-invasive and effective method that provides a complex molecular profile of the tumor.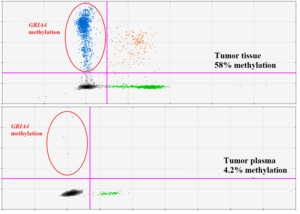 Figure 1: QuantasoftTM output of two tumor samples. 58% methylation of the GRIA4 gene was detected in tumor tissue, and 4.2% of methylated copies of the gene was present in the plasma of another patient with colorectal cancer.
In picture no. 1 we see the QuantasoftTM output of two samples, the first one is tissue from a patient with colorectal cancer and the second one is a plasma from another patient with this type of tumor. Since the yield of circulating plasma DNA is comparatively lower than the yield of genomic DNA from tumor tissue and more than 90% of the DNA is degraded after bisulfide conversion, a highly sensitive method such as Droplet Digital PCR (ddPCR) is required to detect methylation.
A key aspect of ddPCR is the technology of dividing the sample into approximately 20,000 droplets. This requires the so-called Droplet Generation Oil into which the nucleic acid is packaged. DNA amplification is then performed in each individual droplet by PCR. Each droplet is analyzed separately, using a fluorescence detection system.
[1] https://gco.iarc.fr/ GLOBOCAN 2020, Global Cancer Observatory (GCO).
[2] Bettington, et.al., Histopathology. 2013, 62(3), 367-386.
[3] Kane, et.al., Cancer research. 1997, 57(5), 808-811.
[4] Petko, et.al., Clinical Cancer Research. 2005, 11(3), 1203-1209.
[5] Barault, et.al., Gut. 2018, 67(11), 1995-2005.
[6] Hauptman, et.al., BMC medical genomics. 2019, 12(1), 1-17.
[7] Vega-Benedetti, et.al., International journal of molecular sciences. 2020, 21(12), 4494.
Principal Investigator: doc. Mgr. Tatiana Burjanivova, PhD.
Profiling of circulating tumor DNA and FFPE tissues in the management and prognosis of patients with malignant melanoma using next generation sequencing (VEGA 1/205/20) More about the project:
Malignant melanoma is an oncological disease characterized by etiologic heterogeneity and it has increasing incidence and mortality in the Slovak Republic. Melanoma develops when melanocytes, which produce pigment melanine undergo malignant transformation. It is caused by an interaction between genetic susceptibility and environmental factors. Next generation sequencing has huge potential in oncology. They can detect genetic changes in tumor, but also in the the circulating tumor DNA (ctDNA) released from the tumor cells into the plasma. Non-invasive analysis of ctDNA is also known as liquid biopsy. Liquid biopsy offers several advantages compared to "conventional" tissue biopsy and imaging techniques. There is no radiation exposure of the patient and no spread of tumor cells occurs. The aim of our project is to find out whether next generation sequencing can identify clinically relevant mutations in patients with malignant melanoma and correlate these results with clinic-pathological characteristics.
EU Structural Funds
Integrative strategy in the development of personalized medicine of selected malignant tumors and its impact on quality of life (LISPER)
More about our activities on the project:
New possibilities of laboratory diagnostics and massive screening of SARS-CoV-2 and identification of mechanisms of virus behavior in the human body (COVLAB) ITMS2014 +: 313011AUA4 More about our activities on the project:
Covid 19 is an infectious disease caused by a novel coronavirus SARS-CoV-2. This disease has not only become a public health crisis but has also affected the global economy. Timely and accurate diagnosis of COVID-19 crucial to getting the disease under control. Given the COVID-19 pandemic's lessening in the Slovak Republic and the spread of new SARS-CoV-2 variants worldwide, the import of this disease from holiday destinations is becoming a significant health risk. Strict rules apply at airports, including the wearing of masks, social distancing and improved hygiene. However, with increasing numbers of travellers, effective as well sufficiently sensitive testing methods are constantly being sought. Our goal is to introduce RT-qPCR and ddPCR methodologies enabling the testing of saliva samples, single and also pooled ones, for the presence of SARS-CoV-2. It would be a combination of high sensitivity and, at the same time, by omitting RNA isolation, a speeding up of the process and a significant shortening of the testing time.
Completed research projects
Our department participated in research projects co-financed from EU resources
1. Center of Excellence for Perinatological Research (CEPV I) (05/09-04/11)
2. Completion of the Center of Excellence for Perinatological Research (CEPV II) (01/10-06/12)
3. Molecular diagnostics of cervical cancer (10/10-09/13)