BIOMEDICAL CENTER MARTIN
From the history and mission of BioMed
Biomedical Center Martin still belongs to the most extensive projects of the Jessenius Faculty of Medicine in Martin Comenius University in Bratislava. Initiator of BioMed fundation was the dean of JFMED CU prof. Ján Danko, M.D., PhD.
Opening ceremony of BioMed was held on May 21, 2015 with the participation of the Prime Minister of the SR Robert Fico, the Rector of CU Karol Mičieta, the chairman of the Žilina self-governing region Juraj Blanár and the other leaders of universities, faculties, state and governmental organizations as well as the staff and the students of the Jessenius Faculty of Medicine in Martin.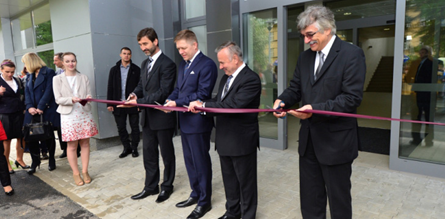 The workplace is a representative example of efficient use of financial resources and interconnection between research and practice, and represents intellectually stimulating modern space with new approaches, technological procedures, methodologies and unique equipment of laboratories.
BioMed objectives:
to capture the progressive trends in science,
to promote concentration of scientific teams,
to avoid the inefficiency and fragmentation in research,
to ensure a close connection between experimental results and their application in clinical practice,
to streghten the position of JFMED CU both in domestic as well as international context.