Department of Cell Cultures and Tissue Bank
Head of division: MSc. Henrieta Škovierová, PhD.
Experimental laboratory of tissue cultures
Head of laboratory: Ing. Ján Strnádel, PhD.
The laboratory is dedicated to creating new cultivation protocols and to the application of so-called 3D cultures for testing new candidate compounds with potential therapeutic effects. Cells cultivated in 3D culture better imitate the situation in "in vivo" condition and can selectively remove those substances from testing, that were effective in "in vitro" 2D cultures, but non-functional "in vivo" animal tests or clinical trials.
Laboratory of Regenerative Medicine
Head of laboratory: RNDr. Eva Blahovcová, PhD.
Laboratory aims at implementation of guided tissue regeneration, predominantly at applied research in the field of joint cartilage regeneration, the ureter and bladder regeneration. It deals with possibilities of treatment of defects of soft and hard tissues, especially in dentoalveolar surgery and maxillofacial surgery, as well as in other diseases. Our aim is to integrate and provide comprehensive servi­ces related to cultivation of required tissues with the possibility of their subsequent clinical application and creation of scientific and methodological base for the development of unique inter­connection of scientific and clinically applied forms of research.
Division is equipped with the latest devices, such as a cell sorter, microdissection apparatus, automatic system monitoring the growth of cultures and the system of laminar boxes.
A cell sorter is fully digital, high-speed fluorescence activated cell sorter (Fig. 1) capable to separate cells on the basis of required specifics, to monitor the presence and to sort stem cells which will enable to create monocultures.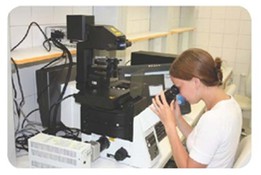 Microdissection device (Fig. 2) is a fluorescence inverted micro- scope, enabling the dissection of the living cells from the tissue culture for subsequent cultures, dissection from paraffin and cryostat sections, coatings and the like, whereas dissection on the subcellular level can be used for other micromanipulati­ons, such as cell fusion and laser micro injections. Automatic system monitoring the growth of the cultures (Fig. 3) is applicable in: monitoring apoptosis, cell cycle analysis; monitoring cell differentiation and monitoring cell viability.
The system of laminar boxes BIOSPHERIX (Fig. 4) provides cultivation of cells and tissues under aseptic conditions without having to leave the controlled area of the device itself. Any microscope can be placed in the system and the process itself can be carried out the area of controlled cleanliness and gases concentration used, so as to maintain the constant surrounding conditions throughout the whole period of manipulation with bio­logical materials. If necessary, the system allows to separate the area of microscopy from the rest of controlled interior system.